In this new blogger interview series, our members offer their insights on the current crisis, based on their experience and expertise. The intent is for these to be enlightening and to encourage collaboration.  
We're thrilled to kick-off with Talita Holzer, CEO at waytoB. Talita talks about business challenges and opportunities in the current scenario and the importance of Diversion & Inclusion to overcome this crisis.
Interested in participating? Drop us an e-mail at content@staging6.irelandtogether.ie 
Interview by: Vithoria Escobar
VE: If you start by introducing yourself and your business at the moment. 
TH: Hello, my name is Talita Holzer, I am the CEO and co-founder of waytoB. I am originally from Brazil, where I studied Manufacturing Engineering. I moved to Dublin in 2014 to study Engineering with Management at Trinity College for one year. During that year, a friend and I were paired together for a project where we had to come up with an innovative solution for a real-world problem. We had the challenge to help people with intellectual disabilities become better integrated into society, and after months of research, we identify an unmet need in the market. We found that the majority of people with intellectual and learning disabilities find it hard to user mainstream navigation apps, such as Google Maps. For this reason, they don't tend to travel independently, which limits their access to education, employment and social activities. We then came up with the idea for waytoB, a smartphone and smartwatch navigation app that uses icons to guide the user to their destination, as opposed to having to read a map. We have been working on it ever since – initially, we were able to secure a research grant from Trinity, and then a Commercialisation Grant from Enterprise Ireland to bring it to market.
VE: What does the current landscape look like for your business in Ireland?
TH: I'm not going to lie to you, it's been challenging. Our goal at waytoB is to promote social inclusion for those with special needs, which is hard to do during a pandemic. Everything seems to be 'on pause' at the moment, as clients and potential clients wait to see what will happen as things start 'going back to normal'. 
With the current social isolation measures, we have turned our focus to online inclusion, and have been collaborating with the Health Sciences department at Trinity College to create an accessible solution to help those with special needs to learn digital skills. The digital divide is clearer than ever now, as most of us are working from home and using tools like Zoom to stay connected. If you can't use these tools, you become even further marginalised.
VE: What are the biggest challenges facing your sector? 
TH: Our biggest challenge is learning how to best navigate the ongoing Covid-19 crisis. We sell our software solution mainly to local authorities in the UK, where the situation seems to be the worst in Europe. This crisis will have profound implications for governments and businesses, and it is very hard to plan for that. I believe that most GovTech companies out there are facing similar issues, as we don't know which budgets will be affected, and how much. We have kept in touch with our clients and leads to help them in any way we can and to also have more clarity on what the future holds, but it's still too early to tell.
VE: Do you see this crisis changing the Irish tech environment in any way?
TH: I hope so! I love the Irish tech and entrepreneurship scene, but there are some things that can be improved, which I believe this current situation has shown us. Remote work is a big one, which everyone is talking about. I will confess that, although I have always defended remote working, I didn't think it would work for me specifically. I was wrong! I've been more productive working from home, and also have had some extra time to do online courses and exercise, which I didn't before. I also feel that I wasted a lot of time meeting people in person before, for meetings that could have easily been a quick Zoom call, or even an email! I think that many others feel the same, and I can see that many companies have started adopting remote work as the 'new normal', like Twitter and Facebook.
VE: Before all this happened, diversion and inclusion were making their way to the forefront of Irish business. As an advocate for gender and inclusion, how do you think these two words will help overcome this crisis? 
TH: We all know (or should know by now) that diversity sparks innovation and creativity, which are absolutely necessary in times of crisis. Working with people who are different from you challenges your brain to overcome its stale ways of thinking and sharpen its performance. This results in smarter, more resilient teams, that are ready to think outside the box when it comes to facing to challenges. We can see so many companies in Ireland having to adapt their business model, and sometimes completely pivot their products or services. Having diverse teams and a culture of inclusion will definitely facilitate this process.
VE: waytoB is an initiative that positively impacts people, a tech for good. Are there any positive things coming up from these turbulent times? 
TH: Yes, definitely! Akara, the Irish robotics company responsible for Stevie the robot, has quickly come up with a new robot called Violet, which uses UV light to kill the SARS-Cov-2 virus, responsible for Covid-19. The time it took to develop Violet was really impressive, they had a prototype being tested at hospitals in less than 2 weeks. The Open Source Ventilator project is another great example, a team of  incredible volunteers who are working day and night to develop a low-cost and open-source ventilator to help save lives and aid the recovery of Covid-19 patients. Companies like EarlyBeep have completely pivoted their solution to support those who need it the most during the crisis: in normal times, it is a marketplace for sport and leisure activities, but they decided to use their platform to connect volunteers with vulnerable people, to help them buy food and walk their pets, for example.  The social enterprise Beam, a crowdfunding platform to provide training to homeless people so they can find employment, is now giving members of the public the opportunity to fund emergency care packages too. They're also focused on supporting people into roles that have seen unprecedented demand, such as healthcare workers and supermarket assistants.
There are so many inspiring stories, I could spend all day listing them!
VE: The majority of our members in Ireland Together are small companies, so as waytoBe. How can small businesses benefit from this sense of community?
TH: I think Ireland has a very supportive startup community, which can make a real difference in normal times, but especially in times of crisis. Everyone seems to know each other, and want to see others succeed too. WaytoB has benefitted from this sense of community, having received support in the form of mentoring, volunteer work, introductions, and even office space! We also like to give back, use our skills to help other small businesses who might be struggling. We've done quite a bit of work for other startups during the lockdown, including helping them with  business plans and supporting them to solve technical issues.
VE: What advice would you give for people to make the most out of this period?
TH: I think it depends on what 'making the most' out of this period means to each person. I see a lot of people on social media talking about how we should take this time to learn new skills, but I don't think that's the right option for everybody. This is an unprecedented situation and taking care of our mental health should be top priority. No one should feel pressured to take dozens of online courses and read loads of books, while keeping the same level of productivity at work, all during a pandemic! It's okay to stop to relax, watch TV, go for a walk, and enjoy the rare sunny days! Taking this time to recharge is also a valid way to make the most out of this period.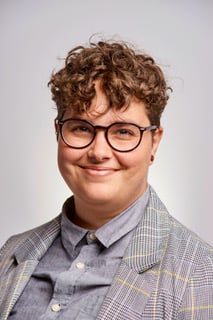 Talita Holzer is the CEO and Co-Founder of waytoB.  An advocate for Diversity and Inclusion, Talita is the D&I Track Captain at Techstars Startup Week Dublin and also leads other two D&I initiatives: #GoingFar and StartAbility. #GoingFar supports immigrant women and non-binary people in Ireland, and the StartAbility aims to support entrepreneurs with disabilities.
She was honored with the Women in Tech Award in the Rising Star Category in 2018, by the Dublin Tech Summit and was selected as one of the 100 Young Innovators in Ireland and the UK by the Uprise Festival. Talita was also a finalist for the Women in IT Award, Women Mean Business Award and the Irish Women's Award.
Connect with Talita on LinkedIn and on Twitter
about waytoB waytoB is an award-winning Irish startup that helps people with intellectual disabilities become more independent. The platform provides turn-by-turn directions based on real-time location and orientation data for users who are going new places on their own.